Fence Post Suppliers
bluebirch can supply a range of fence posts – both concrete and wooden – for all your fencing projects.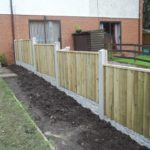 Our concrete fence posts are for use with fence panels – just concrete them into the ground, and your fence panels slot straight in. Prices start from £9 per post.
Our wooden posts come in a range of sizes from 4ft to 10ft, and are available as square and round posts, pointed or flat.